Smaller Pope Co Cemeteries
---

---
The cemeteries and pictures on this page were contributed by Cindy Pegg
Located out in the boonies from Delwood. Turn on the road that takes you back to Bell Smith Springs:

JOSEPH SMOTHERS Died Sept 10, 1891. Aged 65 Years.
HE HAS THE SOLDIERS RECOMENSE
HIS IS A NATIONS GRAVE
WHERE EARTH IN DEATH REPOSES
OUR NOBLE TRUE AND BRAVE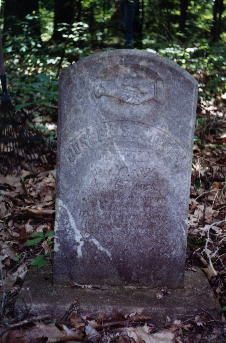 A diamond-shaped stone, across the top says:
Children of J. F. & Margaret Harrison
Front: Etta Leona 6-12-1886 ; 7-7-1886
Back: Charles Edmon 5-10-1878 : 10-24-1880



Small brick shaped stones sticking out of the ground:

M E

J F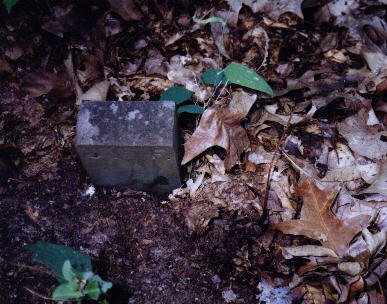 We went and found another cemetery located about 3/4 mile from his property. It's on government land and has a couple of headstones that someone has gone in there and replaced. I think it was called the Old Stark Cemetery:

LUCINDA MORSE
July 14, 1814
April 10, 1898

SAMUEL MORSE
Born Aug. 8, 1811
Died Aug. 29, 1882
Behold the pilgrim as he lies
With Glory in his view.
To heaven he lifts his longing eyes
And bids the world adiew.

DAVID MORSE
born Mar 30, 1856
Died Aug 3, 1882
Dearest Brother thou has left us
For thy loss we deeply feel
but tis God that hath bereft us
He can all our sorrow heel.

Son & Dau
of W B & N E Biggs
How soon fades the tender flower

Charley Land
1865-1889

Amanda G.
Wife of J. D. Choat
Born Mar 5, 1847
Died May 1, 1883

John D. Choat
1837-1893
I took pictures at both places. There appeared to be sandstone markers that don't have any writing on them.
---
Additional information below provided by: Jerry Hill
---
In addition to the headstones Cindy listed, there are a number of JENKINS headstones in good condition back in one
corner of the cemetery. This was real exciting to me because the parents of this group were the sister and brother-in-law of
my wife's great-great-grandmother, Phoebe Murphy NEWTON.

The Choat and Lands names she listed are also related to the Newtons.
I'm not sure how (or if) the Morses are related to the Newtons or Jenkinses.

If anyone knows anything about the Jenkins, Choat, Newton, or Lands families here, I would love to talk with them.

Here are the inscriptions I copied down from the far corner:

Matthew Jenkins
Native of Tenn
Died March 23, 1869
Aged 72 years 6 months 3 days
((making his birthdate 20 Sep 1796))

Sylpha ((her maiden name was Murphy))
wife of Matthew Jenkins
Died September 10, 1851
Aged 52 years 4 months 6 days
((making her birthdate 4 May 1799))

Adjacent headstones listing a son or dau of S.L. & M. Jenkins

Marinda
Dau of S.L. & M. Jenkins
Died Apr 13, 1851
Aged 1 yr 11 mos

James S.W.
Son of M. & S. Jenkins
Died Aug 8, 1843 (? last digit)
Aged 10 yr 9 mos 8 days

Jemima
Died Aug 1823
Aged 1 yr 6 mo 19 days

Henry
Jul 15, 1842
Nov 22, 1871
((Has a "H.J." footstone))

In another small group of headstones a short ways away from Matthew and Sylpha are another bunch of Jenkins.
I believe William is the son of Matthew and Sylpha but still need to prove it.

William C. Jenkins
Died Oct 22, 1889
Aged 62 years 4 months 14 days
((making his birthdate 8 Jun 1827))
((has a "W.C.J." footstone))

Sarah E.
Dau of Wm. C. & Jane Jenkins
Died July 21, 1887
Aged 18 yr 10 mos 4 days

---

Ginger Hayes

Return to Main Page
Return to Cemeteries